About Myanmar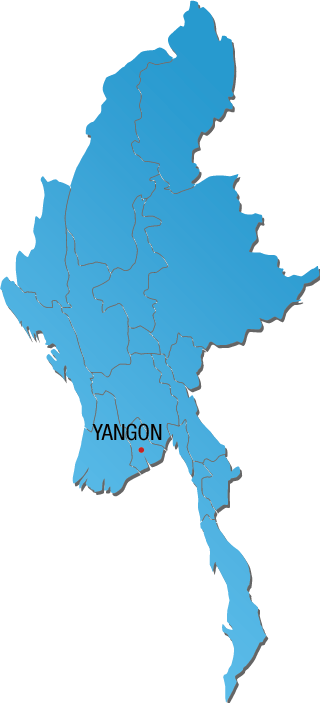 The Republic of the Union of Myanmar (formerly known as Burma) is a country in Southeast Asia bordered by China, India, Thailand, Bangladesh and Laos.
Rich in culture, and possessing abundant natural resources and an ancient history, Myanmar spent nearly one hundred years as a colony of the British Empire. After fraught years of conflict during and after World War II, Myanmar gained independence and enjoyed over a decade of prosperity and freedom before a military coup in 1962.
Between 1962 and 1988, Myanmar embraced a form of socialist governance and invasive state control which devastated private enterprises and stifled most major industries. Beginning in 1989 Myanmar began a transition to private enterprise, once again allowing the formation of private companies and industries.
In 2010, Myanmar embarked on a transition to democracy – electing a parliament, abolishing most major media censorship practices and releasing hundreds of political prisoners, in addition to a host of other governance reforms.
Although Myanmar was regarded in the 1950s as among the most prosperous and educated countries in Asia, a half-century of stagnation and oppression severely damaged this beautiful nation. However, in 2014 many are discovering that several of Myanmar's strengths are just as meaningful now as they ever were, including a high literacy rate and respect for education, a peaceful and honest culture, abundant natural resources and land borders with over 1/3 of the world's population.
The History of the Garment & Textile Industry in Myanmar
Garment and textile production in Myanmar has occurred for longer than memory. Indeed, the beauty and craftsmanship of the traditional regional textile workshops in Myanmar – the Shan, Chin and Naga among others – are a testament to the exquisite talent and artistry of the country.
The beauty and craftsmanship of the traditional regional textile workshops in Myanmar – the Shan, Chin and Naga among others – are a testament to the exquisite talent and artistry of the country.
Under the British, textile factories were built and industrial scale expertise was cultivated. Although not a focus for the colonial government, some textile factories were built to service the demands of the domestic market. Such investments continued up until the military coup of 1962.
During the years of the Socialist Republic of the Union of Burma (1962-88) all major industries in Burma were nationalized. In consequence, any continued developments in the garment sector occurred under the auspices of the Ministry of Industry. Even during this period, garment & textile production in Myanmar received some foreign investment and machinery inputs, chiefly from Germany, China and Japan.
Rebirth of the Private Sector
In November 1988, the government of Myanmar enacted the Foreign Investment law which allowed foreign companies to start doing business in the country. This was the impetus for the development of the modern garment industry in Myanmar.
The Myanmar Textile Industry and the Union of Myanmar Economic Holdings Limited entered into joint-ventures with garment firms from South Korea and Hong Kong, such as Daewoo Group and Segye. Some 100% wholly foreign owned firms also established themselves in the country. Between 1990 and 2001, garment production increased from 2.5% of total exports in 1990 to 39.5% of exports in 2000 – meaning it became the largest export industry in Myanmar. In early 2000 there were approximately 400 factories with 300,000 employees generating an export volume of  US$ 600 million. The majority of exports went to the USA (over 50%), 15 countries in the EU (40%), Canada, Singapore, Korea, Malaysia, and Australia.
The future looked bright for garment production in Myanmar.
The 'Lost Decade'
However, in 2003 sanctions and a trade embargo were imposed on the country and this greatly impacted the garment industry. Overnight the United States market was lost. Changes in Myanmar's taxation and regulations also adversely affected the industry, as did the phasing out of the international Agreement on Textiles and Clothing in 2005. Other factors, including the continued emergence of China and Bangladesh as garment export powerhouses, meant that Myanmar's garment factories were made less competitive at the same moment as they became internationally isolated. Limited access to finance also precluded many producers from realizing their ambitions to expand or renovate factories to be more competitive.
In consequence, hundreds of factories closed their doors and more than a hundred thousand garment workers became unemployed.
International sanctions in 2003 and, shortly thereafter, the phasing out of the international Agreement on Textiles and Clothing resulted in hundreds of Myanmar garment factories closing their doors and more than a hundred thousand garment sector workers becoming unemployed.
Finding New Markets
Between 2005 and 2010, the 130 or so surviving garment factories started to explore new markets, particularly in Asia, and Japan & Korea quickly became the largest foreign buyers of Myanmar's garment products. In 2010 Myanmar accepted 37.5% of Japan's CMP orders and 25.3% of Korea's. Despite orders from these markets, the Myanmar garment sector grew slowly during these years.
As of mid-2014, Approximately two new garment factories are opening for business in Myanmar every week.
2011 to present
In March 2011, the State Peace and Development Council formally transferred power to a new Union Government. The new government embarked on a series of sweeping changes and reforms which have resulted in the lifting of a majority of foreign sanctions by the EU, USA, Australia and Canada. To facilitate trade and foreign direct investment, the government lowered export taxes, eased restrictions on the financial sector, implemented currency reform and revised the Foreign Investment Law.
Due to these dramatically improved business & political conditions, the garment sector is currently experiencing rapid growth. Currently, approximately two new garment factories are opening for business in Myanmar every week. As such, MGMA is in a prime position to promote the responsible and productive growth & development of the sector.
Beneficial Trade Agreements
Regarding preferential trade agreements with European nations, Myanmar benefits from GSP preferences in the EU market. Although the United States has not yet chosen to re-instate GSP preferences for Myanmar products, Myanmar is afforded MFN status, resulting in lower tariffs than nations which do not have such status.
As a member of the ASEAN trade bloc, Myanmar will also be part of the ASEAN free trade area from 2015. This will necessitate Myanmar's inclusion in several multi-lateral free trade pacts, such as the ASEAN-China Free Trade Area, the ASEAN-Korea Free Trade Area, the ASEAN-Australia-New Zealand Free Trade Area, the ASEAN-India Free Trade Area, and the ASEAN-Japan Comprehensive Economic Partnership.
Discussions are ongoing for the Regional Comprehensive Economic Partnership. This intends to be an ASEAN + 6 free trade arrangement between the 10 ASEAN nations with Australia, China, India, Japan, South Korea and New Zealand.